Brief Encounters by Pandora Sykes
>
A new series where I dive into the drawers (quite literally) of writers of note.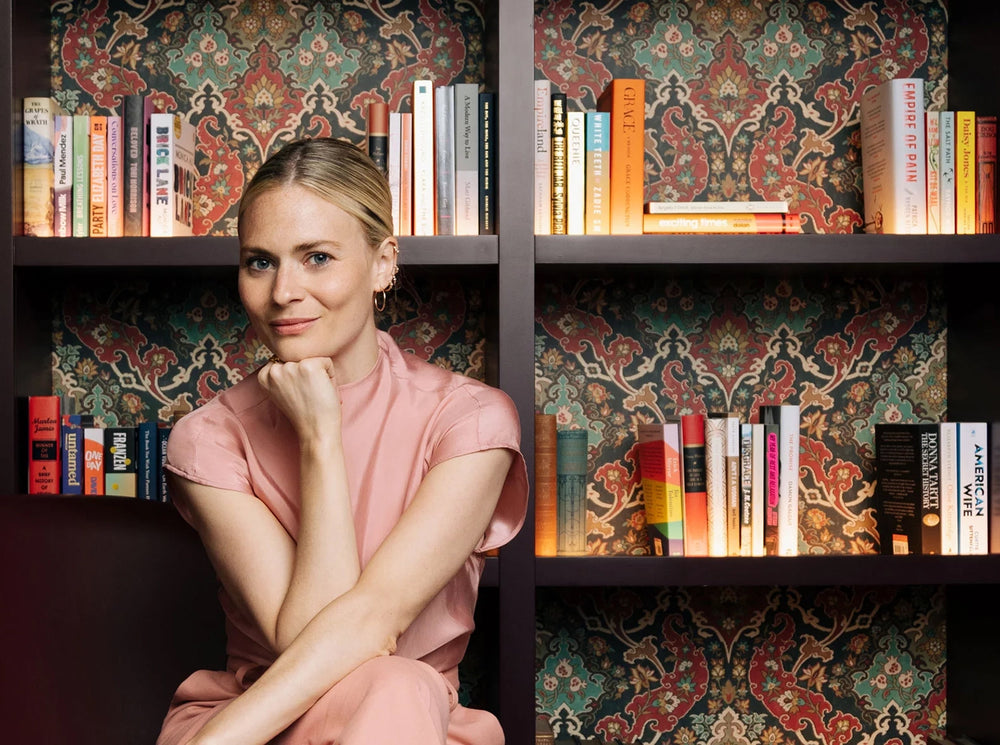 002: Candice Brathwaite
Welcome back to Brief Encounters, the interview series where I interview some of Stripe & Stare's favourite writers and entertainers about the contents of their knicker drawer. Think of it as Who Do You Think You Are? in undercrackers.
For the second instalment in the series, I got up close and personal with Candice Brathwaite, a writer, broadcaster and fashion personality, who has written several brilliant books including I Am Not Your Baby Mother and is a regular presenter on Lorraine. As anyone who follows Candice on social media will know, she is honest to a T. If anyone can make their knicker drawer sound entertaining, it's Candice.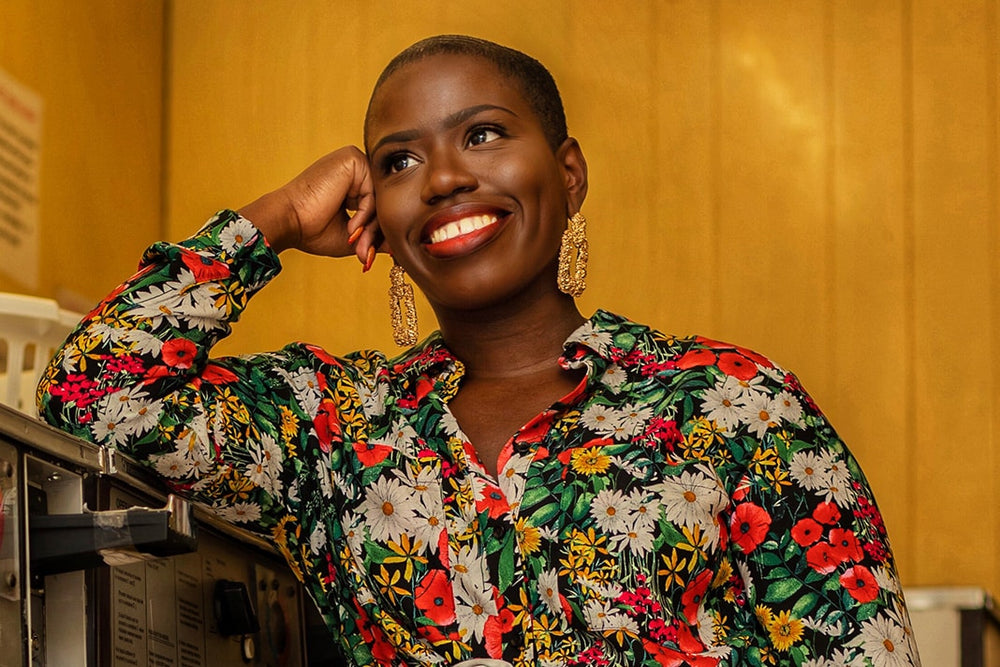 Candice, welcome to Brief Encounters! Would you describe yourself as a knicker enthusiast, knicker expert, or knicker agnostic?
Knicker agnostic. I am a classic Pisces - I struggle with decision-making and always over-think things and I am at a stage in my life where I just can't deal with decision fatigue. So now my nails are only red and my knickers are only black cotton, or black lace. I want them up to my neck - and black. My knicker drawer is like a funeral.
I assumed - not that I have given it much thought, I promise - that your knickers would be as colourful as your famously colourful wardrobe.
I love a colourful bra. My bra section is like My Little Pony. I did go through this stage of 'everything must match - if it doesn't match, I'm not a real woman' but then I realised that that was ridiculous. So now it will be a neon yellow bra poking out of the t-shirt, but always black pants.
What were the knickers that first stole your heart?
A neon thong. I was obsessed with thongs - I'd go to the high street and get five for £1 in really funky colours. They always had to poke out over the top of my jeans. Remember when Sisqo's 'Thong Song' came out? I was definitely too young, but I became obsessed with the idea of them. From about 16 to 21, that's all I ever wore. I look back and think - that is savage.
Do you ever dabble thong-side now?
No! Hell, no! I cannot manage them now. If I don't want a VPL, I just go commando.
Have you always been a high-waisted girl?
Aside from my thong stage, always. My nan and my mum wore high-waisted pants when I was growing up and they would always yank my knickers right up to my neck, so it's just ingrained in my brain that your knickers should be high.
Did having kids further your commitment to the tuck-everything-in pants?
100%. Two kids, two C-sections and now if I wear anything that isn't high waisted, I feel really exposed. If my knickers aren't over the mum tum - and I speak to a lot of my girlfriends about this - I just don't feel safe. There's something about a high waisted knicker that makes me feel safe.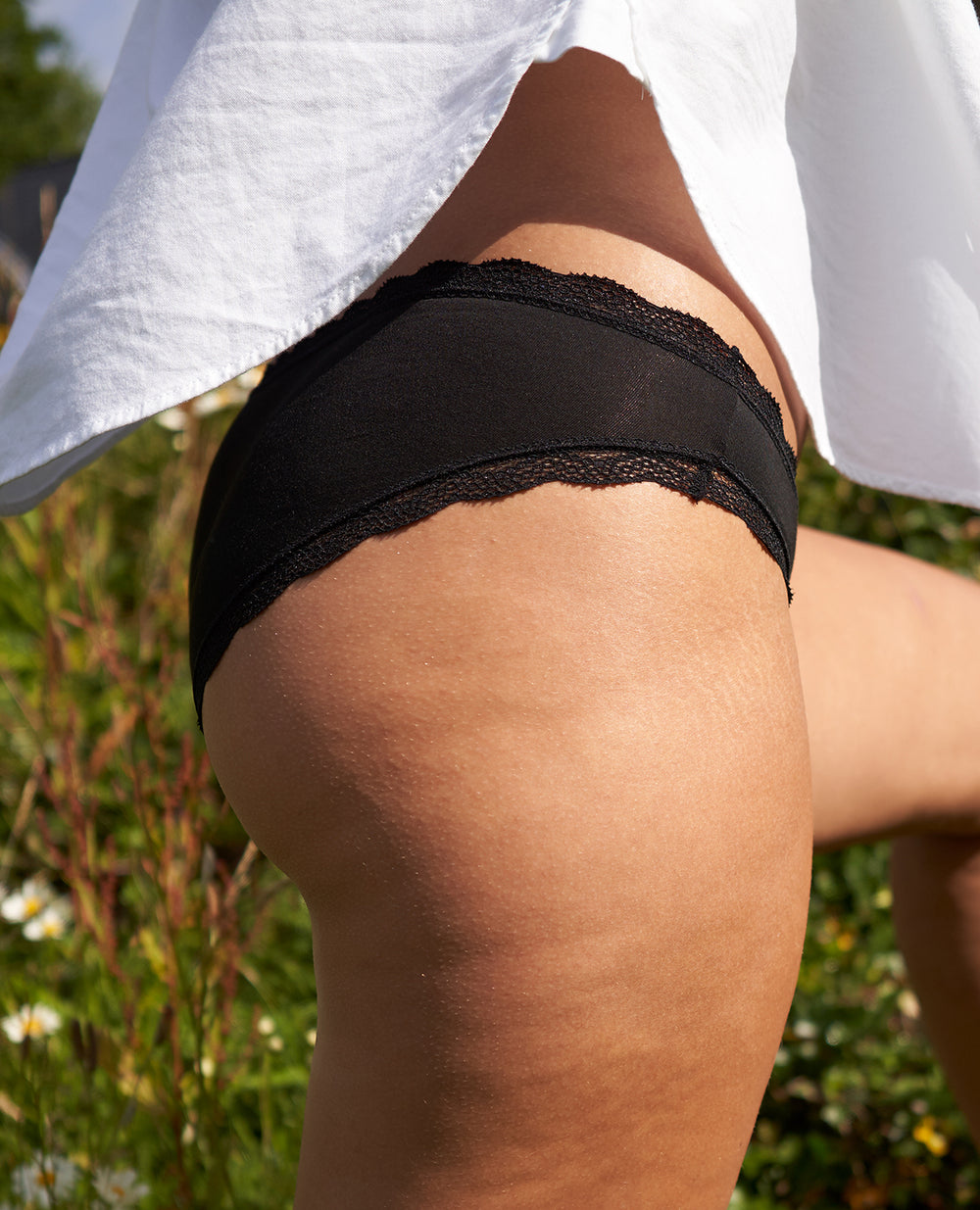 What is your biggest underwear no-no?
Anything too small. Always size up! Don't do the whole 'I'm offended by the label' thing. It doesn't matter what size you wear, just get the ones you fit. Because you can't return knickers, so they'll just sit in your drawer, being too small.
How many pairs of knickers do you own?
Between 40 and 50. I'm a big on knicker rotation. I change my knickers about four times a day on holiday. It feels so good!
How do you categorise them - do you have a Monica Geller-style 'towel, fancy towel' situation but for knickers?
I absolutely do. When we moved house, we were helped by this house organiser, Dilly Carter (she's on the BBC1 show, Sort Your Life Out) who created this sick underwear system and now I can't fold my pants any other way.
Pray tell, what does this folding system look like?
I trifold them to make more room. I used to be a classic 'throw it all in close the drawer' type person, but then what happens is you wear the same seven pairs.
How often do you purge your underwear drawer?
Once a quarter and I'm very strict about that. I will set aside a day and do mine, my daughter and my son's - because they grow like weeds.
If you were a pair of pants, what would you look like?
I would be a mint green lace pair of big pants - cute but still offering comfort.
So you wouldn't be a pair of black pants? Interesting.
No, that's the inner me, that's the hidden me. The me on display is mint green or neon yellow.
What about a crisp pair of white pants? Which look lovely for approximately one wash.
White knickers freak me out - it gives boarding school vibes.
Let's talk about wedgies. Do you suffer from them?
Not in my big pants now. But as a kid, yes - I'd stand behind my mum and pick them out. Now my daughter is a big wedgie picker, but she does it in public and I'm like, "girl do you not want some privacy?" I do wonder about all the fake bums you see on social media. I think they must suffer from wedgies. The knickers must be getting lost in there!
What are your views on men's pants. Boxers, boxer briefs, or Y-fronts?
It has to be boxers. Y fronts scream nursing home. I can't even.
Have you ever ended a relationship over the state of someone's pants?
I think if you are waiting until you see their pants, there are red flags before that.

Inspired by Brief Encounters 002
The Stripe & Stare products we couldn't stop thinking about whilst reading this interview. From Candice's neon thong obsession, to her funeral of a knicker drawer.